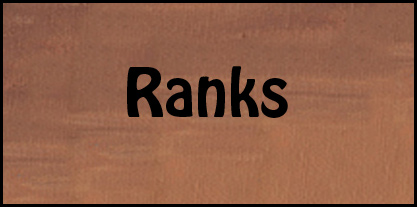 Brilliant Rank Pictures by Flaming Rose :)
DEFINITIONS
A rank is a position a character obtains in-character. Ranks start out at Lower Gamma level and work their way up the pack structure. Ranks can give out normal character breeding results. A moderator is a player who deals with the running of Wolf Mountain out-of-character. Moderators are the only ones who can give out mythical breeding results.
If you have an issue that needs to be resolved or if you would like a second opinion on a role-play post or battle for example, you should post on the 'ask a moderator' board.

YIOLA THE BLESSING GIVER

Ranked creatures are blessed with Yiola which grants the ability to give out blessings to deserving members of the Wolf Mountain pack (although they are limited to one blessing per month apart from on special occasions like Blessing Days - see the Calendar). Yiola also has a side effect that makes it possible for the ranked character to 'show' the symbol of their rank to prove their title if need be. This has to be willed into appearance, it is not always on display.
The blessings a ranked character can give out are (however they must possess the blessing they are giving out):

Uncommon

Common

Death, Life and Death Stop
For one use items such as Death, Life and Death Stop, once they have given it away they no longer have it themselves.
Moderators can remove blessings if rules are broken.


RANK ADVANTAGES

LG: Receive 10 common/uncommon blessings of their choice (one of those is Yiola, the blessing to bless others)

They also get a phoenix which then belongs to them only whilst they have a rank. If they lose the rank, they no longer have the phoenix character. Phoenixes cannot be traded or given to anyone else.

Phoenixes are not tied to the character on mountain, only to the rank itself, however, the ranked character cannot use their own phoenix to kill or bring one of their own characters back to life.

The Phoenix can use or grant either blessing every four months. After each "death" the phoenix can change types.

Life Phoenix = ONE Life Blessing or Death Stop Blessing.

Death Phoenix = ONE Death Blessing or Life Dissolve Blessing.

On the fourth month the phoenix is reborn and the process happens again. Each time a phoenix is used to gain a Blessing it must be recorded onto the Rank Board.

The Blessing gained can be gifted to another character who earns it.

G: Receive 2 common blessings of their choice and 3 "Rank Only Blessings"

HG: Their Death or Life Phoenix can grant/use either blessing once every THREE months.

LB: Receive all of the blessings from the "Rank Only Blessings" section

B: Receive a Cat Face Gryphon character and 2 uncommon blessings of their choice

HB: Receive all uncommon and common blessings, also all the "Rank Only Blessings" (in case they have run out) and their Death or Life Phoenix can grant/use either blessing once every two months.



MODERATORS
WolfySilverSonic, AmethystEyez, Bandido, Flaming Rose
RANKS
Alphas

WolfySilverSonic, AmethystEyez
Lower Alphas

Bandido


Higher Betas

Lone Zelda, Flaming Rose



Betas

-


Lower Betas

Redd_Wolf, Fazzle, Tycoon



Higher Gammas

-


Gammas

Toric, Black Rain, Taniku, Nora



Lower Gammas

Perun, Alavera, Tepid, Arodeth, Huntress


Elders



Elders are creatures who've been on the mountain for a long time. This special status given to them awards them two hard-to-get blessings and one uncommon blessing. Their knowledge is useful both to ranks and normal creatures. Elder status may also be given instead to previously ranked creatures who don't visit the mountain regularly. If they do wish to come back to play more actively, they may be given back a rank.
Creatures can be ranked and also an elder.
This list is in no particular order as there is no such thing as a higher elder, for example.



AmethystEyez

Aryanie

Bandido

Black Rain

BlazeHeart

Brutus

Celtic Sprite

Circe

Dark Essence

DarkShadow

Dust Biter

Echo

Fazzle

Firepaw

Flaming Rose

Frollo

Frostfur

Fyr

Heritage

IceWind
Khaz

Kipcha

Kirik

Knight Wolf

Lone Zelda

Misty

Myuni

Niwah

RavenShadow

Redd_Wolf

Seg

Shadow Warrior

Shadowed

Silence

SilverMidnight

SoulSnacher

SummerSnow

Tazendre

Toric

Tycoon

WolfySilverSonic